A Growing Cheater Problem In Valorant
There are a growing number of eyes focussed on e-sports as it grows in popularity. It's always exciting when a new name enters the conversation and grows an audience with Valorant being the big name in e-sports at the moment. With a growing number of competitions being held at the same time, there's a big focus on developing the scene especially during this period of time of lockdown where there are more active players and viewers. Despite recent changes in regulation, there has also been a huge surge in players betting on e-sports, with many operators including these ones here not registering to services such as Gamstop so ensuring that there's enough safe competition is essential too.
The big story recently has been that two up and coming players in the American scene were recently banned for cheating. Phox and w3ak had played in a number of tournaments that boasted big prize pools with Phox being suggested as a stand in player for a team competing to win $10,000. Both (Phox and w3ak) had been banned and whilst both initially tried to pass off their innocence, both have since put out a statement admitting that they have cheated and their team didn't know. With the Riot Vanguard anti-cheat system being touted as a revolutionary change in anti-cheat, to a little way into beta being exposed as just a bit bare bones with little substance, it raises the question of just how much cheating is taking place in the game currently and whether or not the continued hosting of online tournaments is sustainable (when there's no guarantee of safe gaming).
Vanguard, Vanguard Anti-Cheat Error, Vanguard Anti-Cheat has encountered an error. Please relaunch the client to restore anti-cheat function. Quit. (Screenshot from reddit.com).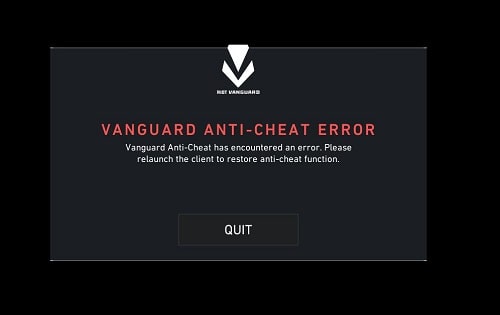 This isn't only apparent in a high stakes situation either. Professional players from other games such as Counter-Strike have already complained as big names like dev1ce have been very vocal on social media about the current situation in the games competitive ladder, something players have been complaining about at all ranks since beta began. If a handle can't be placed on the current problem it may impact the game's longevity, as something similar is already hurting the other big competitive shooter on the market in CS:GO (Counter-Strike: Global Offensive) as the game is also being plagued at the moment with cheaters.

There are steps being taken here at least, regular ban waves are going out targeted at many of the popular cheat providers and this is backed by a hardware ID ban system to prevent as many repeat cheaters as possible. Although it hasn't been explored just how effective the HWID (hardware ID) ban measures are as there will be ways to avoid this. The issue will persist as in other games with more private cheats within the game and how unlikely they are to be detected and punished. Until offline events are able to be held again, there will be increased concerns within the professional scene as to whether or not players are cheating, especially with a game so young where new up and comers are expected to show themselves on a more regular basis.


Return to the PC cheat index.




Content is © John Brace t/a Level 80 2021

Privacy Policy