Does Betting Belong In Esports?
The question has been around since betting first emerged in the esports scene in 2015 through cosmetic item betting in the popular title of Counter-Strike Global Offensive - there have already been criticisms of similar mechanics in these games as many of the loot systems have been said to prey on those most vulnerable, with mechanics suggest these no account casino styled features encourage players to spend - so what of betting?
Screenshot from a video game with hand holding mobile device. Picture credit thesportsgeek.com.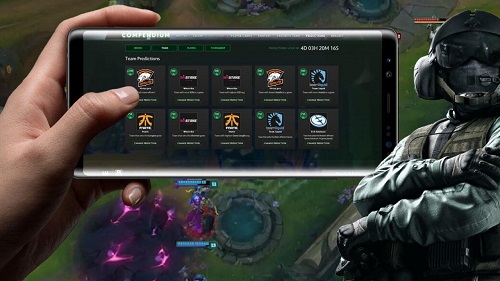 It is now becoming much more prevalent and likely to stick around, teams are starting to pick up sponsorships from betting operators and we have already seen leagues with big betting sponsors, but it begs the question if it is reaching in the same way that the cosmetic gambling did, of whether or not it is targeting the correct audience of historically younger and more influential demographic makes up the user base for these games. But it's a bit of a double edged sword at the same time, esports is moving very quickly and has exploded in popularity in recent years, to cement itself as a popular name amongst other big hitters there needs to be some level of familiarity and betting provides that to a wider audience that will continue to help the growth experienced recently.

Whilst there may not be the option to replace betting as a whole then, perhaps options need to be explored in order to protect those most at risk, by putting certain restrictions and safeguards in place - the number of esports becoming available with a betting scene is only growing year on year, although the big three titles make up around 95% of this market, this will continue to change as other games rise in popularity. These are also the formative years of esports, and with how popular the market currently is it is easy to forget it has only existed in its current form for the past five years or so, and hasn't had decades to grow the regulation and safety that can be found within other big sporting events - so it's clear betting is here to stay, the next stage may be to decide in which capacity it will stay.

As it stands esports will only continue to grow, it is quickly becoming one of the most popular sports in the world and the audience is moving outside of just enthusiast gamers as it once was and is now reaching regular non-gamers, we're more likely to see common methods in regular sporting events move across to the virtual sport, it's a very exciting time for fans as things are moving very quickly but it does open the possibility for things to go wrong early before they're fixed are more stability is found, so whether or not betting belongs in esports has a clear answer of yes for now, whether that same answer will remain in the coming years may be something that should be addressed down the road.


Return to the PC cheat index.




Content is © John Brace t/a Level 80 2021

Privacy Policy